5 Landscape Fountains For Your Des Moines Home You'll Want Now
Beautiful Landscape Fountains You Can Have In Your Des Moines Yard
You may have just found what you need to complete your landscape.
Maybe you feel your yard isn't finished yet or you may want something new for your home.
Either way, landscape fountains can be a beautiful addition to your yard. They can provide a relaxing look and a soothing sound at the same time, all without taking up too much space.
The best part: there are several styles to choose from.
This means there is a type of landscape fountain for almost anyone.
Let's take a look at 5 popular choices.
1. Basalt Stone Fountains
You can't just have one.
Well, maybe you can, but most basalt fountain owners like having a few:
Basalt stone fountains are small rock columns. Water circulates in a reservoir below where it is pushed up until it flows from the top.
You'll love it as either a key feature or as part of another water feature. Either way, you can definitely enjoy the subtle background sound that comes with it.
You can also add lighting to them for a striking night time look.
Let's look at a fountain that works nearly the same way.
You can choose from a few different styles of this landscape fountain:
On the left here is a stacked slate style and on the right is ceramic.
They can greet guests by the front door or you can add them as a new dimension to your backyard landscaping. You can even put one inside if you want!
This landscape fountain also adds the soothing sound of trickling water to wherever you place it.
Spillway bowls, on the other hand, tend to be a bit louder.
They make amazing additions to gardens, patios, and other landscape features.
It may even make a nice bird bath.
If you love the sound of running water, then this one might be right for you. Spillway bowls provide a bit more sound than the other fountains in this post.
Speaking of other fountains, let's move on to the next one!
4. Bubbling Rock Fountains
You will love this fountain if you want a more natural-looking landscape fountain:
Here, the water seems to magically appear from the center of a rock.
It can seem pretty magical.
You can find a bubbling rock fountain to fit almost any style as there is a wide variety of looks.
If natural isn't your thing, you can try this next custom fountain.
You don't see this very often as a landscape fountain, or as a fountain in general: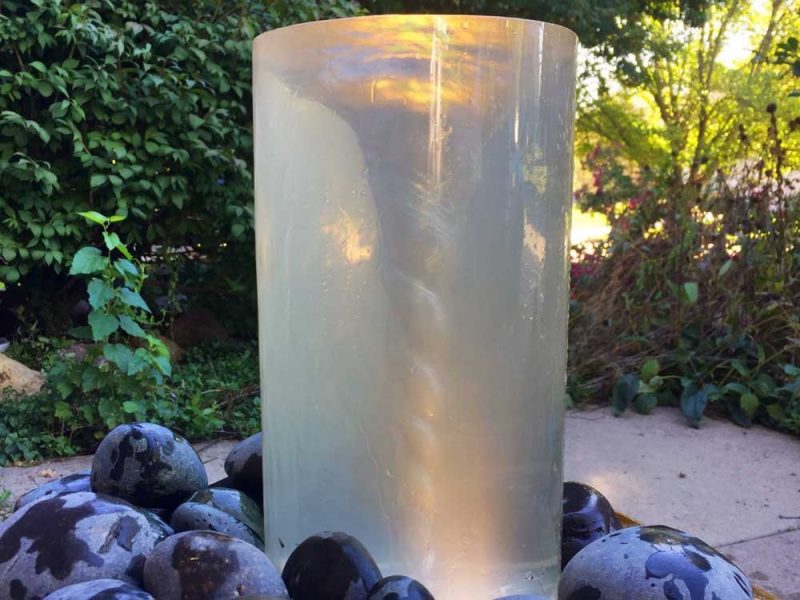 That's because it is a unique design that, well, looks really cool!
The water circulates in a way that makes it look like an underwater tornado.
Which Fountain Would You Get?
These are only some of the more popular landscape fountains, there are others to choose from.
But, if you were to choose one of these, which would it be? Let us know in the comments below!
You can also use these 3 ways to complete your landscape with water >>