Give Your Pond Another Chance And Enjoy Its Beauty All Year Long
Master Aquascape Certified Contractor since 2006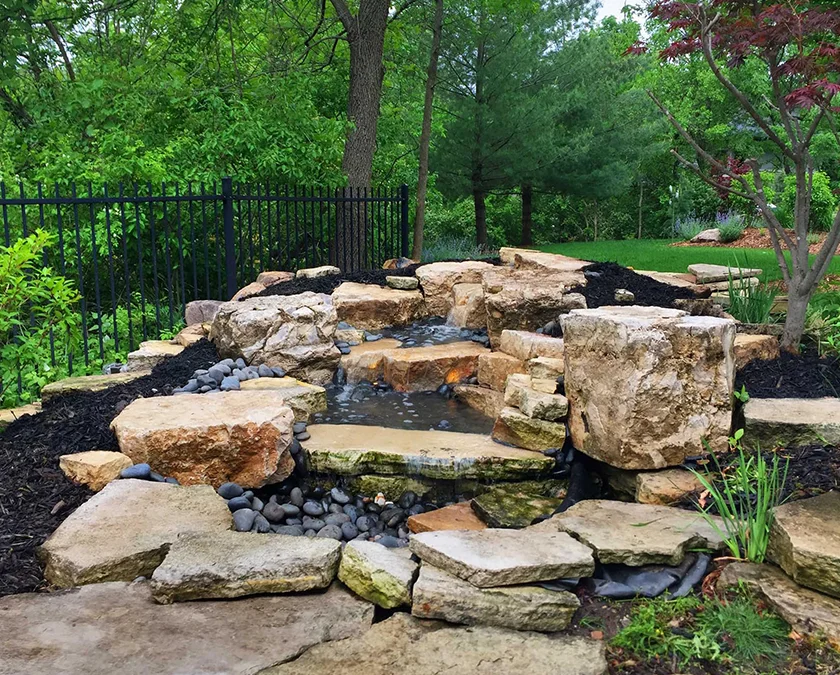 Aquatic features have a whole array of possible problems that they face day in and day out. Some are big, some are small, but they all require attention. The stream in the featured image had a leak that was wreaking havoc on the feature.
Upon investigation, we found the point where the water was escaping. That helped us determine exactly what we needed to do to get the stream back to peak performance.
Some other common repairs that we address are:
Don't Let A Leaky Pond Drain Your Water... Or Your Wallet
Is your pond water level a lot lower than normal? It's not uncommon to lose 1-3 inches per week because of evaporation, depending on the area. But that's not always the culprit, especially when there's a significant amount of water loss.
Water features can be leaking for any number of issues whether it's a punctured liner, faulty plumbing connection, or low liner edge. We treat all of these and more.
You don't have to let refilling your pond with a hose become a part of your everyday chores. If you suspect a pond leak, get in touch with us and we'll start with leak detection to get to the bottom of the issue.
Your yard should be a place where you get to relax to the fullest. We've created an easy process designed to bring you the result you want with zero stress involved.
Connect with us through our form or give us a call. Let us know what your pond issue is and submit a few photos so we can see what we're working with.
We'll perform a thorough inspection to identify the problem. Once we have an aswer, we'll discuss the options to fixing your pond. If it's a quick fix, we'll take care of it on the spot. 
Once the project is complete, we'll do a post-job walkthrough to present to you your restored pond. Enjoy your clean, functional water feature!
Lead detection service
‒
includes one hour of inspection and troubleshooting.
Includes a full pump replacement. Prices range based on the size of your pond and if the pump is a submersible or external pump.
Includes a filter upgrade and the installment of a biofalls filtration system.
*Prices are averages and may change depending on the size of your pond and the extent of the damage and repairs needed. You'll receive an exact quote for your unique pond repair after the in-house consultation.
Leaks happen and pumps can break. In the video below we walk you through a common leak detection call and show the process that we use to verify and correct a leak when it comes to a hole in the liner.
Happy Customers Are The Proof
Having a water feature designed for you will enrich your day-to-day life. See what our customers say about working with us.
After touring numerous Just Add Water ponds and water features, it is quite apparent they are experts in their field.
Their products are spectacular and they genuinely care about their customers' experience.
All I can say is WOW! This company is comprised of a group of professional gentlemen who care about what they do. From the first call to the final walkthrough, we couldn't have been more pleased.
The end result is far better than what we could have imagined. If you're looking for a quality company to design and care for your water feature in Iowa, call Just Add Water.
We had a little difficulty getting the job done due to the unusually wet weather. Will made sure that the job was done to our specifications.
Will made sure he understood exactly how we wanted the repairs to our pond to be completed. Very professional. We were very pleased with the end result.
Enjoy A Functional And Beautiful Pond Through Every Season